AGC Flat Glass
AGC Flat Glass Group Company is a division of Asahi Glass (Japan), which occupies a leading position in the global market of glass and its products. In the Russian market Asahi Glass Company operates since 1997.

LLC NPF Metallimpress cooperated with LLC AGC Flat Glass Klin (AGC) in a variety of projects:
Finished products warehouse with the area of 2000 m2 in Bor, Nizhny Novgorod region (general design, general contract);
Triplex Glass Production Shop with the area of 6800 m2 (general contract) in the Moscow region;
Furnace and Cooling Shop with the area of 20,200 m2 of (development of the stage "P", general contract) in the Moscow region.
All the projects were successfully implemented, as evidenced by the positive recommendations of the Customer: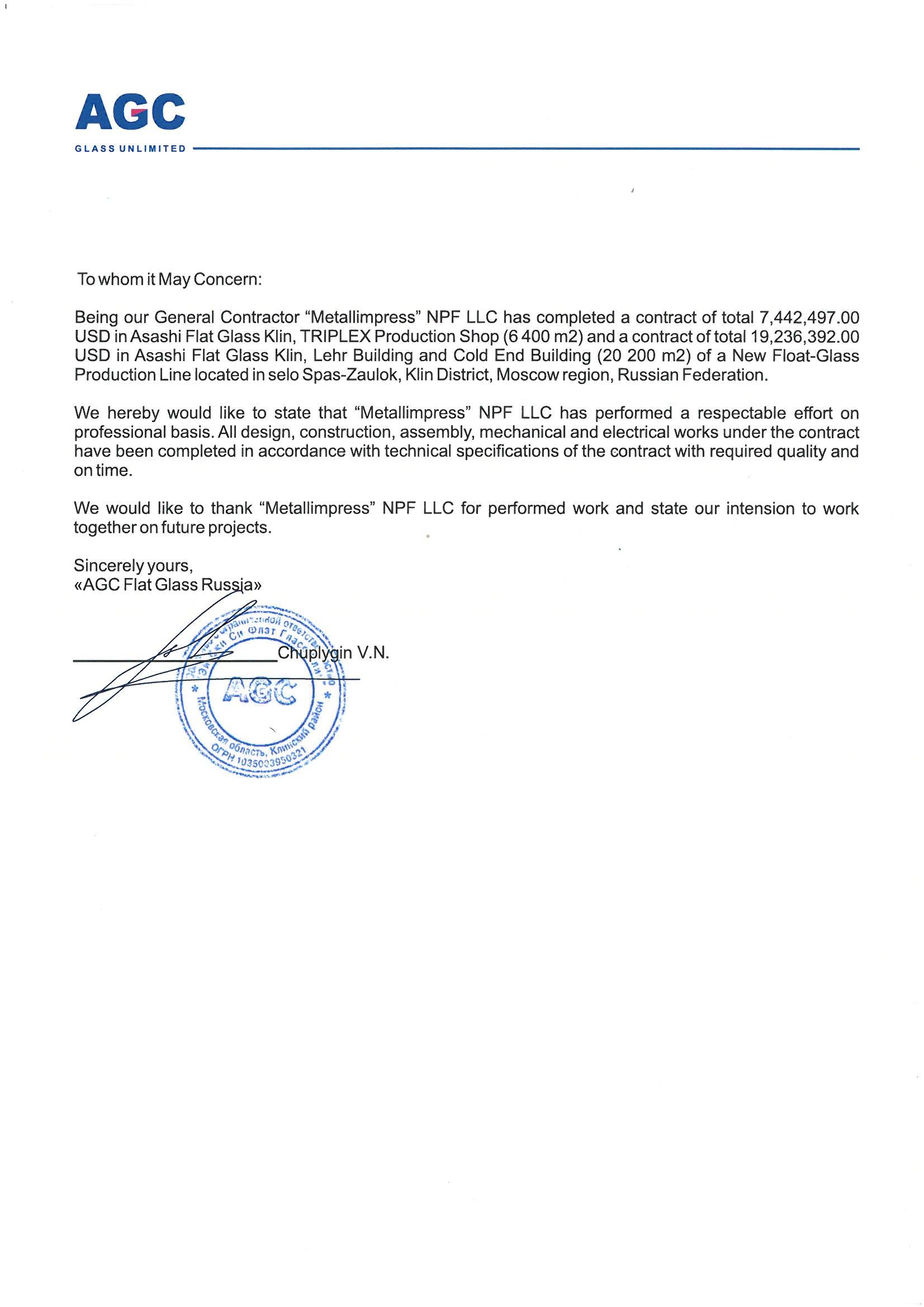 In the period from July 2007 till June 2008 Metallimpress, NPF LLC successfully implemented the functions as General Designer and General Contractor for the turnkey construction of the Triplex glass plant of the total area 6 400 m2, and in the period from March 2008 till November 2009 – the functions as the General Contractor for the construction of an annealing furnace workshop and a cooling line for the production of float glass with a total area (20 200 m2), including internal engineering systems at the plant AGC Flat Glass Klin located at the address: Russian Federation, Moscow region, Klin district, Spas-Zaulok, Sosnovy Bor, 36.
During the work on this project Metallimpress has proved itself as a reliable and responsible General Contractor. All works, as well as supply of the necessary materials and equipment, have been completed on time and with the right quality.
Herewith we express gratitude Metallimpress for their work and we recommend you this Company as a reliable and professional partner.
Best Regards,
V. Tschuplygin
Director Business Development
AGC Flat Glass Russia