SIEMENS AG
Siemens AG is a German transnational group company operating in the field of electrical engineering, electronics, power equipment, transport, medical equipment and lighting engineering, and also specialized services in different areas of the industry, transport and communications.

LLC NPF Metallimpress and LLC Siemens Transformers concluded the contract for the development of the detailed design and the general contractor contract for the "turnkey" construction of the 1st and 2nd stage of the Transformer Production Plant with total area of 19 000 m2 in Voronezh (Industrial park "Maslovskiy"). This plant was built using BIM-technology.
This project was successfully implemented, as evidenced by the positive recommendations of the Customer: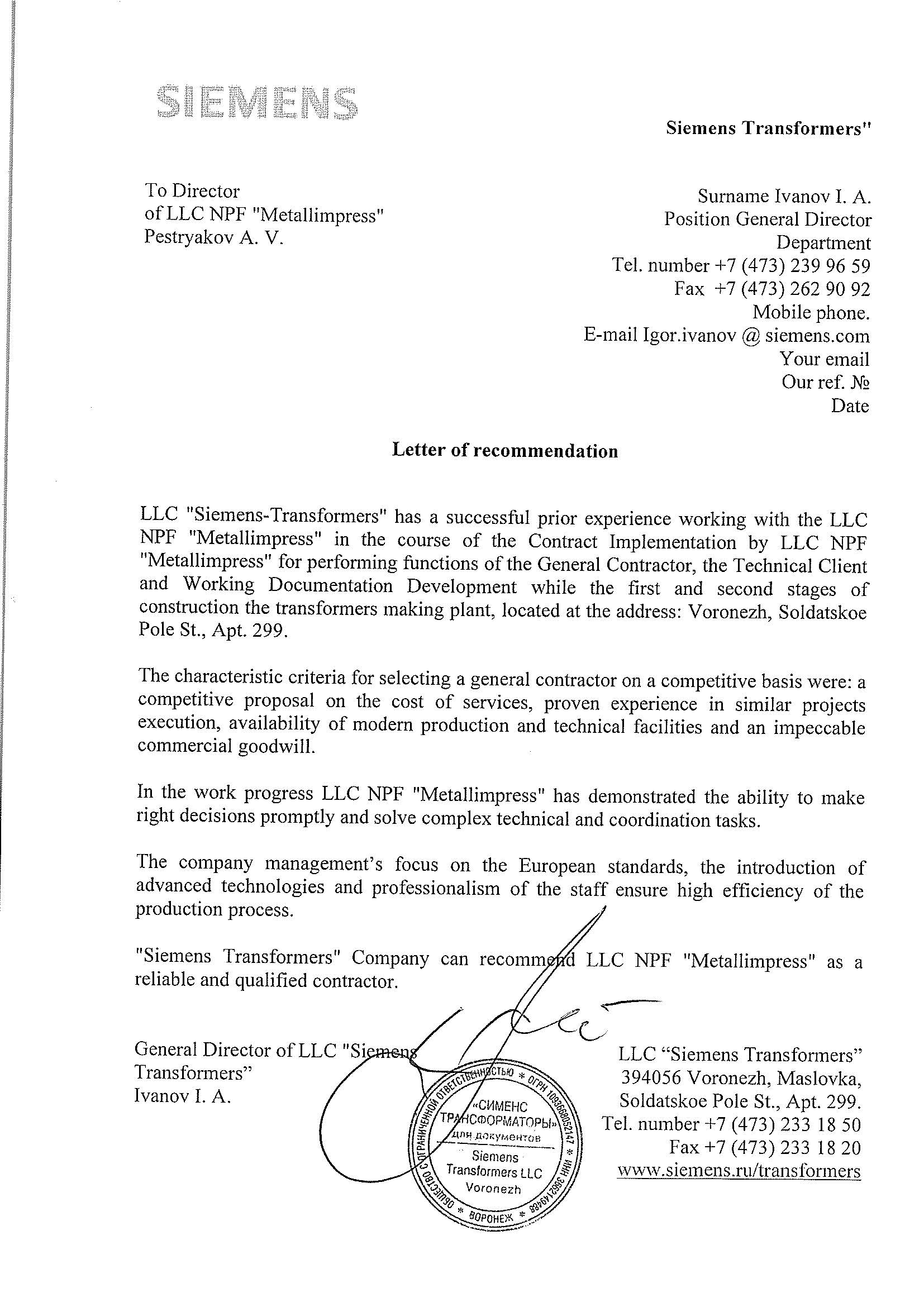 Siemens Transformers, LLC has a positive cooperation experience with the Metallimpress, NPF LLC within implementation the General Contractor Contract, Technical Client Contract and in the field of the development of the Detailed Design documentation for the construction of the first and second stages of the Transformer Plant located at the address: 299 R, Soldatskoye Pole St., Voronezh.
The defining criteria for selection of a General Contractor on a competitive basis were: competitive offer on the cost of services, successful experience in implementing similar projects, the availability of modern industrial and technological base and an impeccable business standing.
In the course of work performance Metallimpress demonstrated the ability to make right decisions and solve complex technical and coordination tasks.
Management's focus on European standards, introduction of advanced technologies and professional staff ensured a high efficiency of the production process.
The company Siemens Transformers can recommend Metallimpress as a reliable and qualified Contractor.
I.Ivanov
General Director
Siemens Transformers, LLC