Voith Hydro
LLC "VolgaHydro" is a joint venture of JSC "RusHydro" (Russia) and Voith Hydro (Austria) created to implement the project for the production of hydro-turbine equipment in the Saratov region. The plant is not limited to the product line and will produce different power turbine depending on demand, as well as associated equipment and, above all, in the future the plant is focused on large machines. This JV is intended to become the Innovation Centre contributing to the development of national science and machine manufacturing.

The Company name has been changed from "VolgaHydro" to "Voith Hydro" since October 2019.
LLC NPF "Metallimpress" concluded the General Contractor Contract with "VolgaHydro" for construction of Hydro Turbine Equipment Production Plant in Balakovo, Saratov region, with the total area of 10 194 m2.
This project was successfully implemented, as evidenced by the positive recommendations of the Customer: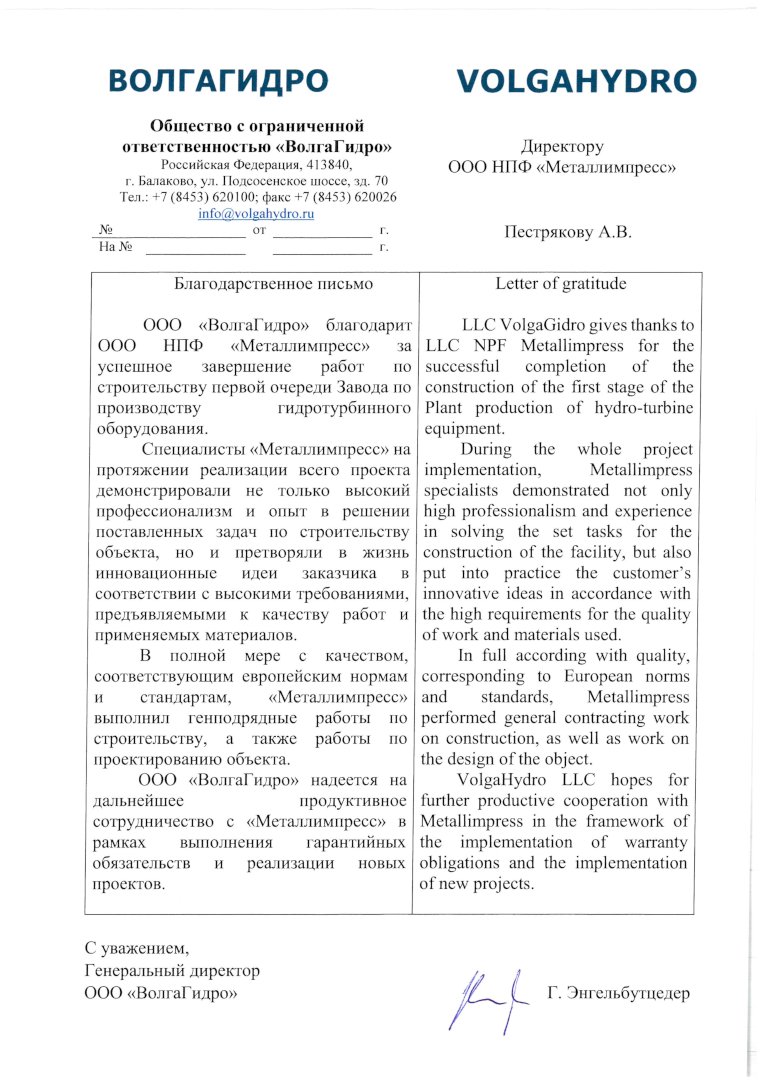 LLC VolgaGidro gives thanks to LLC NPF Metallimpress for the successful completion of the construction of the first stage of the Plant production of hydro-turbine equipment.
During the hole project implementation, Metallimpress specialists demonstrated not only high professionalism and experience in solving the set tasks for the construction of the facility, but also put into practice the customer's innovative ideas in accordance with the high requirements for the quality of work and materials used.
In full according with quality, corresponding to European norms and standards, Metallimpress performed general contracting work on construction, as well as work on the design of the object.
VolgaHydro LLC hopes for further productive cooperation with Metallimpress in the framework of the implementation of warranty obligations and the implementation of new projects.
С уважением,
Генеральный директор                              Г. Энгельбутцедер
ООО «ВолгаГидро»