General Electric
GE is a global diversified company working in the sphere of implementation of infrastructure projects, finance and mass media for the solution of the most difficult tasks of the present. From the production of glow lamps up to implementation of technologies on the basis of fuel cells and creation of more pure and energy saving aircraft engines, GE and its innovations form the directions of development of our world here for more than 130 years.

LLC NPF Metallimpress and LLC GE Rus (General Electric) concluded the contract for the development of detailed design and the general contractor contract for the construction of the Energy Technology Centre with the area of 4 500 m2 in Kaluga (Industrial Park Rosva).
This project was successfully implemented, as evidenced by the positive recommendations of the Customer: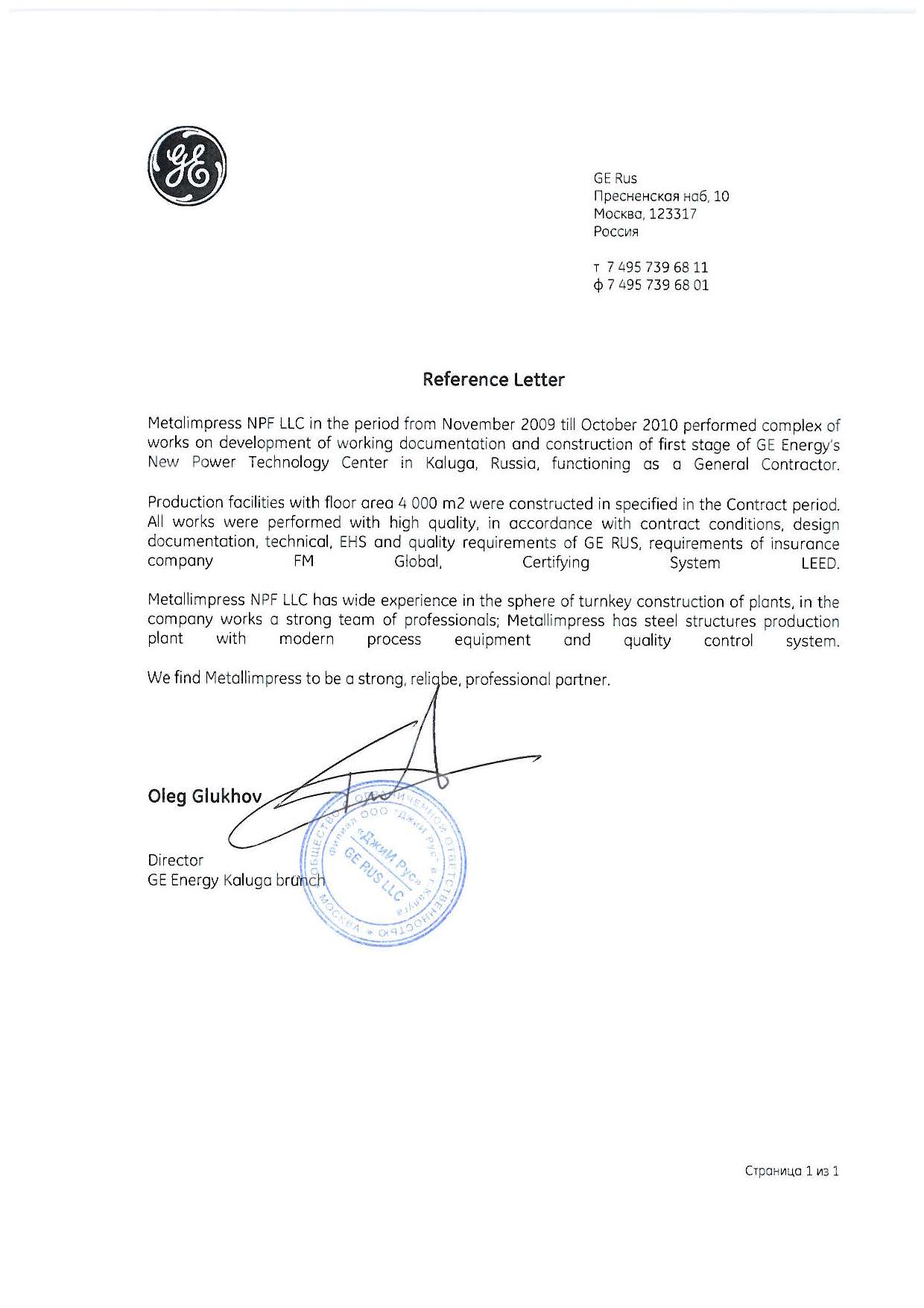 Metallimpress, NPF LLC in the period from November 2009 till October 2010 performed complex of works on development of working documentation and construction of first stage of GE Energy's New Power Technology Center in Kaluga, Russia, functioning as a General Contractor.
Production facilities with floor area 4 000 m2 were constructed in specifide in the Contract period. All works were performed with high quality, in accordance with contract conditions, design documentation, technical, EHS and quality requirements of insurance company FM Global, Certifying System LEED.
Metallimpress, NPF LLC has wide experience in the sphere of turnkey construction of plants, in the company works a strong team of professionals; Metallimpress has steel structures production plant with morden process equipment and quality control system.
We find Metallimpress to be a strong, reliable, professional partner.
Oleg Glukhov
Director GE Energy Kaluga brunch