CLAAS
CLAAS is an engineering company, a major manufacturer of agricultural machinery. The headquarters is located in Harsewinkel (Germany). Founded in 1913.

CLAAS has 14 factories with more than 8 thousand employees in Europe, Asia and America. The range of products includes CLAAS grain and forage harvesters, tractors, balers and forage machines, telescopic handlers.

In 2005, the Russian affiliate company of CLAAS opened a factory in Krasnodar with the capacity of 1000 harvesters a year.
LLC NPF Metallimpress and LLC CLAAS concluded the contract for the development of the detailed design and the general contractor contract for the "turnkey" construction of the 2nd stage of the Agricultural Machinery Plant with the area of 45 000 m2 in Krasnodar. This plant was built using BIM-technology.
This project was successfully implemented, as evidenced by the positive recommendations of the Customer: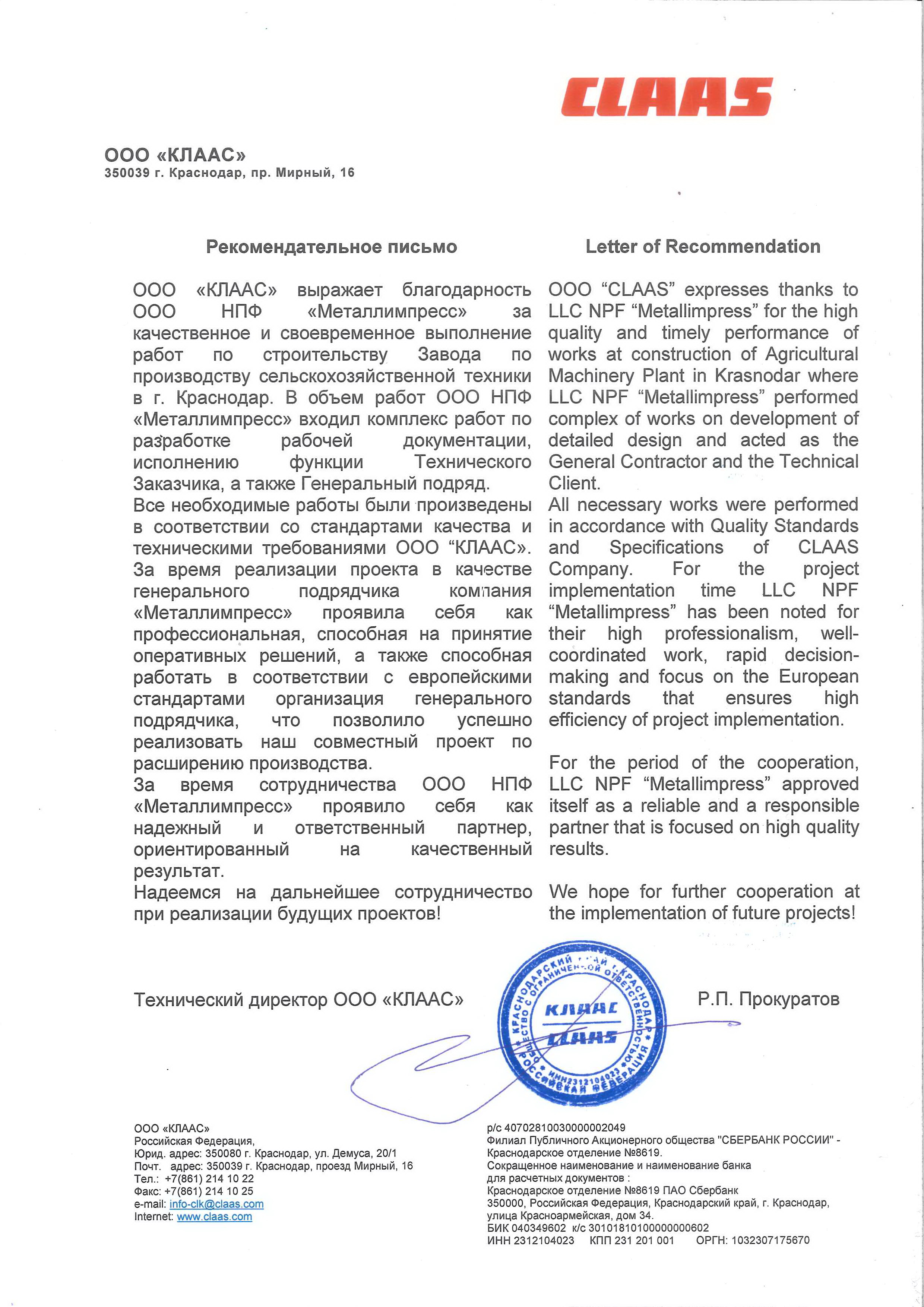 OOO "CLAAS" expresses thanks to LLC NPF "Metallimpress" for the high quality and timely performance of works at construction of Agricultural Machinery Plant in Krasnodar where LLC NPF "Metallimpress" performed complex of works on development of detailed design and acted as the General Contractor and the Technical Client.
All necessary works were performed in accordance with Quality Standards and Specifications of CLAAS Company. For the project implementation time LLC NPF "Metallimpress" has been noted for their high professionalism, well-coordinated work, rapid decision-making and focus on the European standards that ensures high efficiency of project implementation.
For the period of the cooperation, LLC NPF "Metallimpress" approved itself as a reliable and a responsible partner that is focused on high quality results.
We hope for further cooperation at the implementation of future projects!
Technical director of CLAAS
V.P. Prokuratov