IKEA
IKEA is a Dutch production and trading company, the owner of one of the world's largest retail chains selling furniture and household goods.

The full name is IKEA International Group. Headquarters is in Delft, South Holland Province. Founded in 1943 by Ingvar Kamprad in Sweden. As of December 2014 the IKEA company owns and manages 351 stores in 46 countries around the world.

IKEA's mission: "Improve the quality of everyday life for many people."
LLC NPF Metallimpress and IKEA Industry Novgorod concluded the general contractor contract for construction of the IKEA Furniture Factory with the area of 63 080 m2 in the village Podberezye, Novgorod region.
This project was successfully implemented, as evidenced by the positive recommendations of the Customer: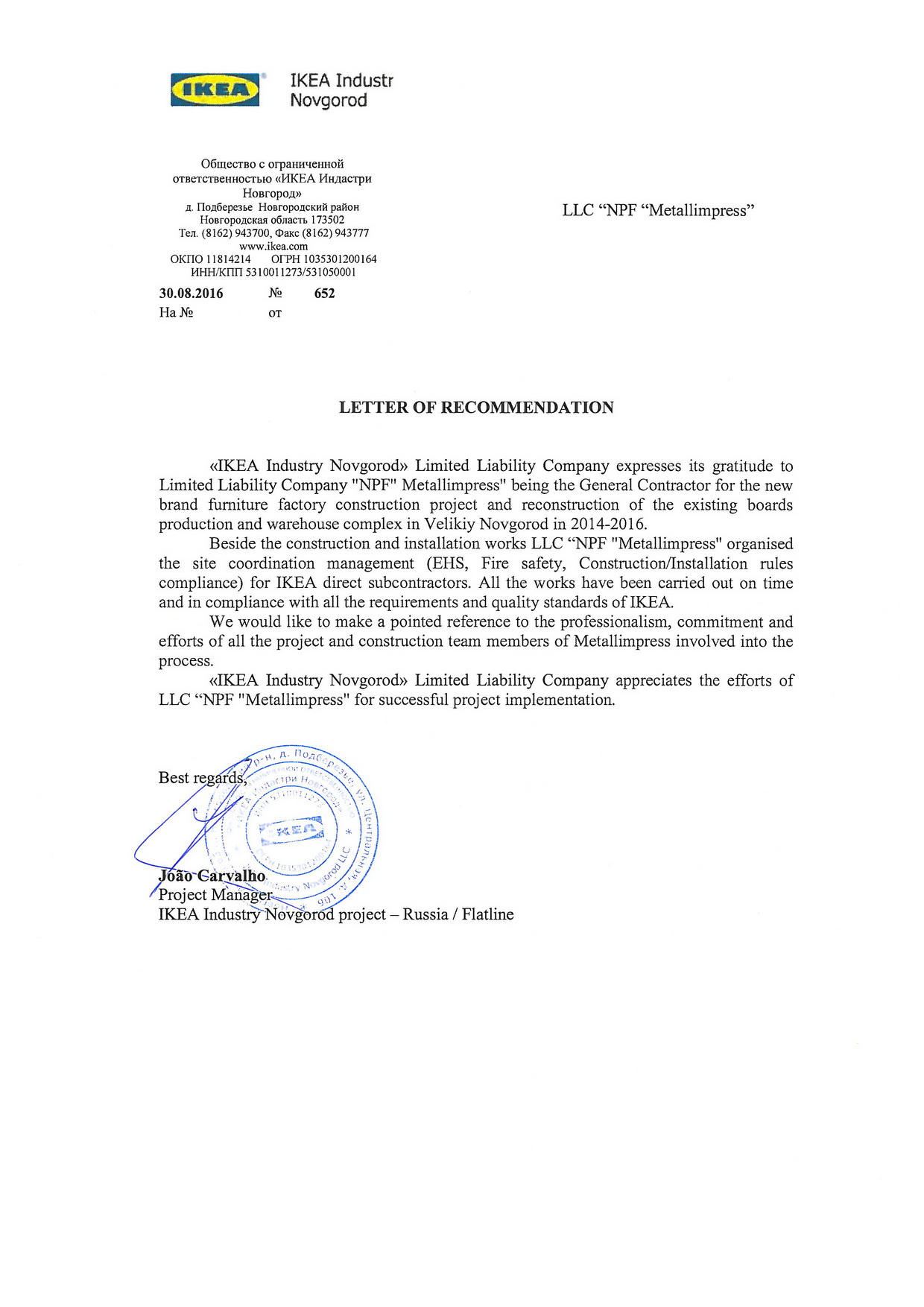 «IKEA Industry Novgorod» Limited Liability Company expresses its gratitude to Limited Liability Company "NPF" Metallimpress" being the General Contractor for the new brand furniture factory construction project and reconstruction of the existing boards production and warehouse complex in Velikiy Novgorod in 2014-2016.
Beside the construction and installation works LLC "NPF" Metallimpress" organised the side coordination management (EHS, Fire safety, Construction/Installation rules compliance) for IKEA direct subcontractors. All the works have been carried out on time and in compliance with all the requirements and quality standards of IKEA.
We would like to make a pointed reference to the professionalism, commitment and efforts of all the project and construction team members of Metallimpress involved into the process.
«IKEA Industry Novgorod» Limited Liability Company appreciates the efforts of LLC "NPF" Metallimpress" for successful project implementation.
Best regards,
Joao Carvalho
Project Manager
IKEA Industry Novgorod project – Russia/Flatline