Kimberly-Clark
Kimberly-Clark Corporation is an American Corporation, one of the leaders in the production of products for the healthcare, personal, professional, and industrial hygiene.

The main brands of the company are Huggies, Kleenex, Kotex, Scott, Kimcare, Wypall, Kimtech, KleenGuard; the sales of the company's products are carried in more than 150 countries.

In the summer of 2010, the company launched the manufacturing plant of personal hygiene products in the Moscow region (Stupino), covering an area of about 40 hectares. The plant manufactures products for personal care products under the brand Huggies.
LLC NPF Metallimpress and LLC Kimberly-Clark concluded contract for general design and the general contractor contract for the construction of a Raw Materials Warehouse of the Manufacturing Plant for Childcare Goods and Paper Products with the area of 14 000 m2 in Stupino, Moscow region. This warehouse was built using BIM-technology.
The cooperation with the Kimberly-Clark company has been continued under the general design and general construction of a Production Plant for Children Care Goods and Paper with the area of 8 365 m2.
These projects were successfully implemented, as evidenced by the positive recommendations of the Customer: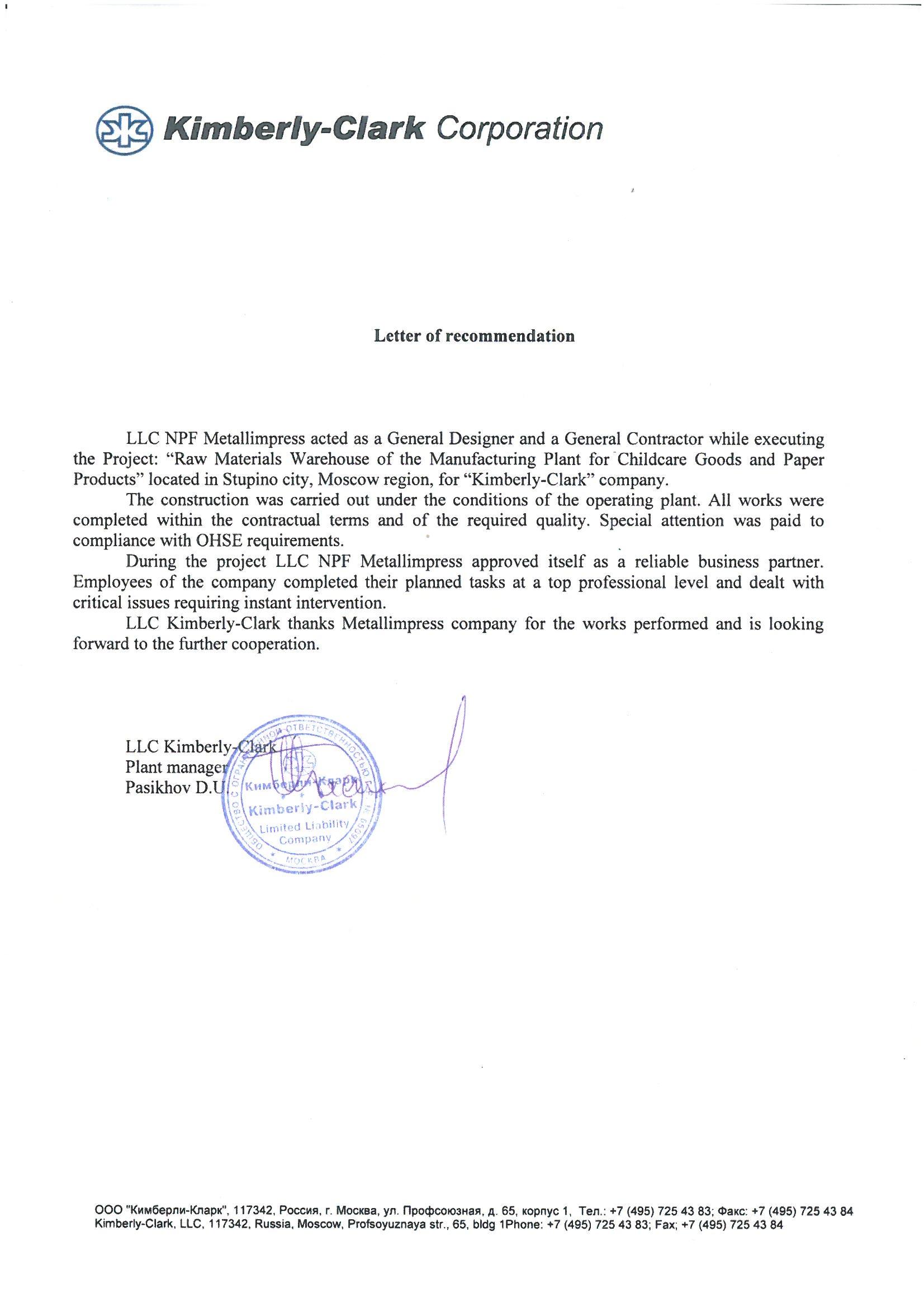 LLC NPF Metallimpress acted as a General Designer and a General Contractor while executing the Project: "Raw Materials Warehouse of the Manufacturing Plant for Childcare Goods and Paper Products" located in Stupino city, Moscow region, for "Kimberly-Clark" company.
The construction was carried under the conditions of the operating plant. All works were completed within the contractual terms and of the required quality. Special attention was paid to compliance with OHSE requirements.
During the project LLC NPF Metallimpress approved itself as a reliable business partner. Employees of the company completed their planned tasks at a top professional level and dealt with critical issues requiring instant intervention.
LLC Kimberly-Clark thanks Metallimpress company for the works performed and is looking forward to the further cooperation.
LLC Kimberly-Clark Plant manager
Pasikhov D.U.