Armstrong
Armstrong World Industries, Inc. is a world leader in production and design floorings, ceiling systems and cabinets. During 145 years a small company has become a multinational corporation with 42 plants located in 12 countries, and 15 thousand people worldwide.

Armstrong suspended ceilings are manufactured from environmentally safe raw materials and all production waste is recycled.

Armstrong works in the market of Russia and CIS for 12 years. The company strives to meet the modern requirements of the consumer, maintain a high level of product quality and keep trust relationships with partners.
LLC NPF Metallimpress and LLC Armstrong Building Products concluded the contract for the development of detailed design and the general contractor contract for the construction of Mineral Tiles Manufacturing Plant with the area of 24,440 m2 in the SEZ Alabuga in Republic of Tatarstan.
This project was successfully implemented using BIM-technology.
The contract commitments were performed at the stated time and in full. The project strictly complied with Russian and international standards in the sphere of labor protection, environmental protection and industrial safety, as evidenced by the Letter of thanks to the Company: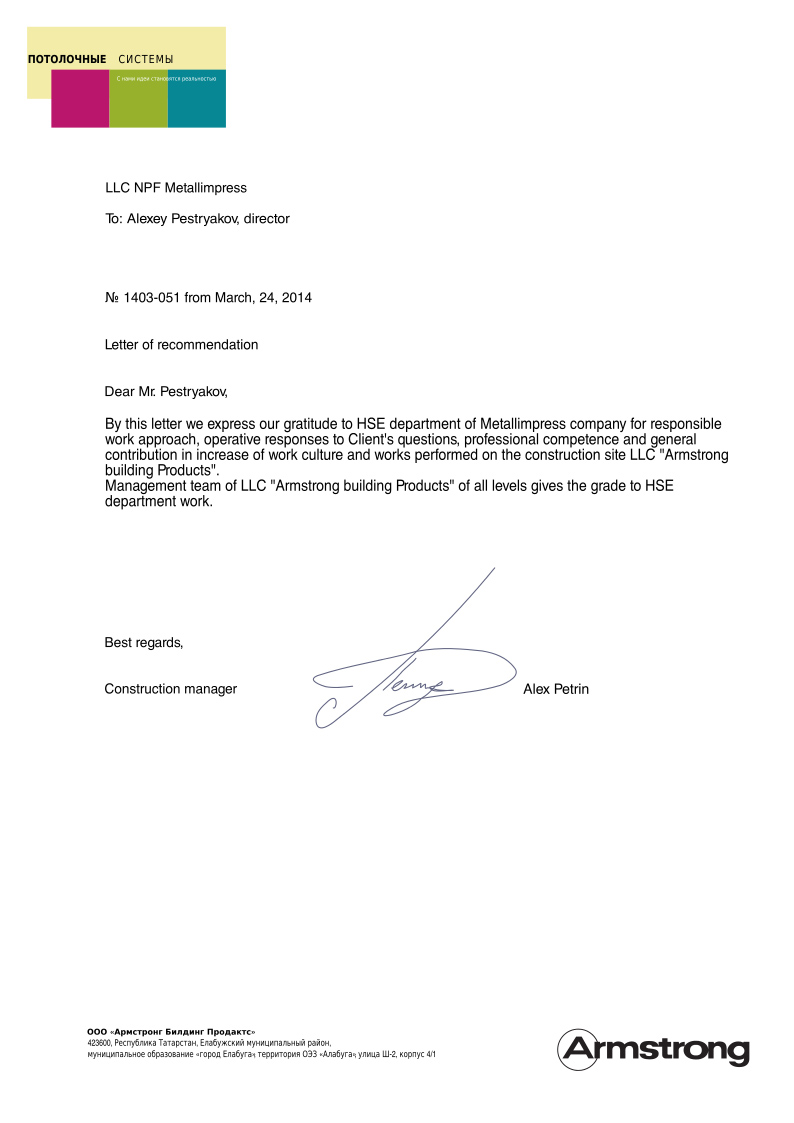 Hereby I would like to thank the Occupational Safety and Health Department of the Metallimpress Company for a responsible approach to work, rapid response to customer requests, professionalism and overall contribution to the improvement of work culture and performed work on the construction site of LLC Armstrong Building Products.
The work of the OSH Department of LLC Metallimpress is appreciated by the management of the LLC Armstrong Building Products at all levels.
Best Regards,
Construction Manager
A. Petrin