O'KEY
O'KEY is a Russian retail chain, one of the leaders in the Russian retail market. Today the OKEY stores are working in 27 major Russian cities: in North-Western, Southern, Central, Ural and Siberian regions of the country (111 shopping complexes with a total shopping capacity of over 500 000 m2).

The management of the company is carried out by the OKEY Group, the construction of shopping complexes is conducted by JSC Dorinda.
LLC NPF Metallimpress and JSC Dorinda signed the contract for the implementation of the following facilities:
Hypermarket OKEY with the area of 15,722 m2 in Voronezh (development of detailed design, general contract for the "turnkey" construction);
Hypermarket OKEY with the area of 3,000 m2 in St.-Petersburg (general contract, Technical Client).
Both projects were successfully implemented, as evidenced by the positive recommendations of the Customer: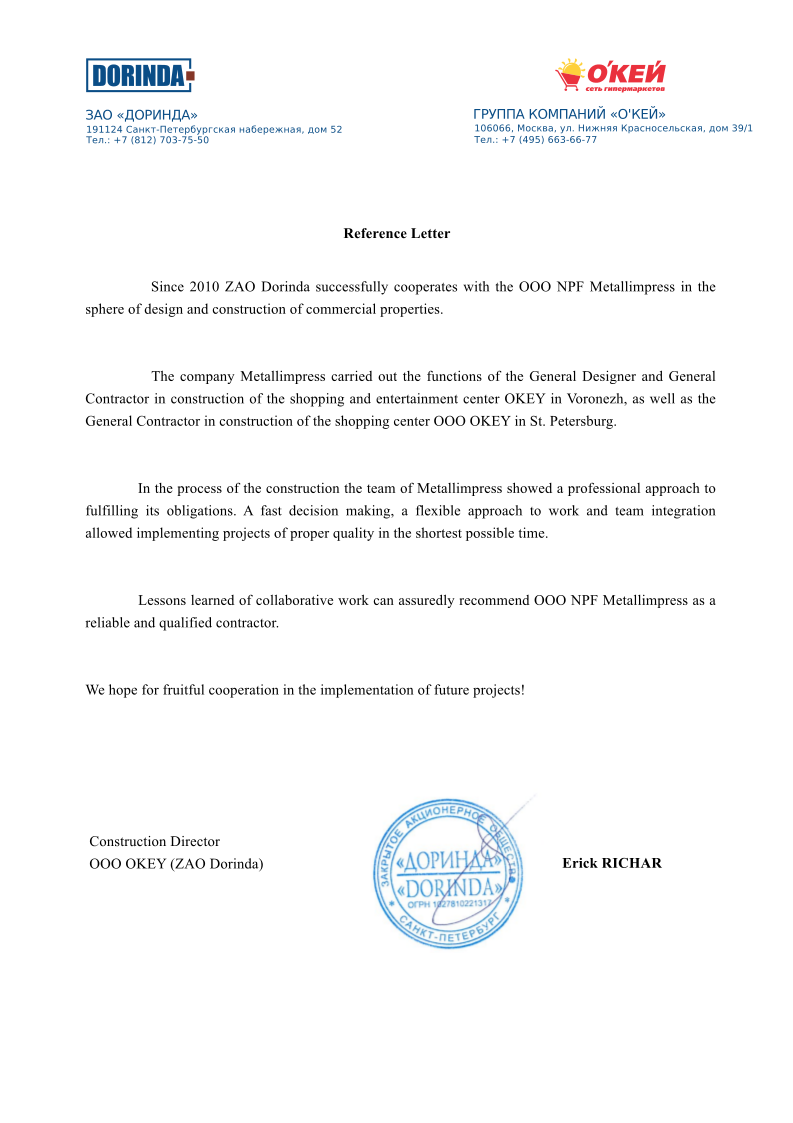 Since 2010 ZAO Dorinda successfully cooperates with the OOO NPF Metallimpress in the sphere of design and construction of commercial properties.
The company Metallimpress carried out the functions of the General Designer and General Contractor in construction of the shopping and entertainment center OKEY in Voronezh, as well as the General Contractor in construction of the shopping center OOO OKEY in St. Petersburg.
In the process of the construction the team of Metallimpress showed a professional approach to fulfilling its obligations. A fast decision making, a flexible approach to work and team integration allowed implementing projects of proper quality in the shortest possible time.
Lessons learned of collaborative work can assuredly recommend OOO NPF Metallimpress as a reliable and qualified contractor.
We hope for fruitful cooperation in the implementation of future projects!
Construction Director OOO OKEY (ZAO Dorinda)
Erick Richar